For years, I have not used a single sponge on my counters. Even a sponge sanitized in the microwave or the dishwasher gives me the creeps. When my daughter was young, she had an immune system problem called Neutropenia. As a result, she didn't grow enough white cells to fight off bacteria. On that day, the sponge and the kitchen rag went into the garbage.
For a while, I relied on bleach to sanitize the counters, but I ruined some perfectly nice mom tops with bleach. I do spend more than the average person on paper towels, but I like knowing that I am not spreading germs around.
This is my favorite homemade sanitizing kitchen and glass cleaner. I believe I saw the original recipe in Heloise once.
Fill an old glass cleaner bottle about 1/3 of the way with isopropyl alcohol. Add another 1/3 of vinegar. Add literally ONE single drop of Dawn dish soap. Fill the rest of the bottle with water. I did add 20 drops of lavender essential oil to temper the vinegar smell somewhat.
I also use this solution on my wood floor when cleaning up one spot with the Swifter Wet Jet, and I clean my stainless steel appliances with this solution too.
And, my clothes no longer have errant bleach spots.
Have you joined Mom's Monday Mingle? The blog hop is open for a few more days. Follow me on one of my networks and I will follow you back!
Would YOU like to "Co-host" with us?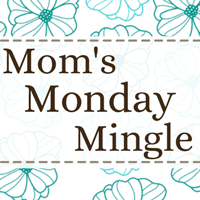 Please help spread the news on this growing hop! Please
tweet
about this hop!
Tweet
RULES:
1. Please follow each hostess
(They are 1-4 in the link up)
At Home Take 2- Hostess
Our Changing Nest: Now What- Co-Host
Makeup Obsessed Mom- Co-Host
2. Leave a comment if you are new and want us to return the follow.
3. Grab the button and display it on your sidebar or link it to the post.
4. Have fun and meet new friends!