Welcome to Monday! Instead of looking at the long days ahead, let's see what we can do to make them quick, easy, and Weight Watchers friendly.
One of my husband's and son's favorite dinners is Nachos. Most of the time, if you eat nachos outside of your home, they are fattening and sometimes disgusting. I don't know who eats that cheese junk that comes out of a warmer at the football field concession stand. I know I have seen people eat it, but I don't know them. At least I don't think I do. I can't tell. They usually have a hood over their head.
We make at home nachos all of the time.
I am more like another Sandra. I like to make the semi-homemade version:
Brown your low fat ground beef with a 1/4th...ish package of prechopped onions. Add salt and pepper to the GB mixture.
When browned, sprinkle 1/2 cup of the light GB mixture on top of one serving of Baked Tostitos chips.
Measure out 1 oz of shredded cheese. Okay 2oz of your favorite cheese. It doesn't matter if you count your points. Sprinkle on top of the GB and Tostitos chips.
Place in your microwave on high for 90 seconds to melt the cheese.
Throw on a few spoonfuls of salsa of your choice. Add a blop of light sour cream, and surround with lettuce. It's not for decoration. It is a vegetable.
Enjoy! Do they still have Monday Night Football? I must confess. I watch Bunheads on ABC Family. It reminds me of Gilmore Girls.
Happy Monday!
Don't forget to join Mom's Monday Mingle. It's hopping!
Would YOU like to "Co-host" with us?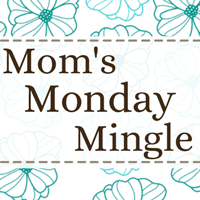 Please help spread the news on this growing hop! Please
tweet
about this hop!
Tweet
RULES:
1. Please follow each hostess
(They are 1-4 in the link up)
At Home Take 2- Hostess
Our Changing Nest: Now What- Co-Host
Makeup Obsessed Mom- Co-Host
2. Leave a comment if you are new and want us to return the follow.
3. Grab the button and display it on your sidebar or link it to the post.
4. Have fun and meet new friends!