I am honored to be a co-host for "Mom's Monday Mingle"! Welcome new and old friends! Please follow me on one of my links, and I will return the follow. Stop back soon for my new feature on My Mother-In-Law's recipes. I can't wait to share her famous Big Brownie recipe. You will want to bring it to every potluck!
Would YOU like to "Co-host" with us?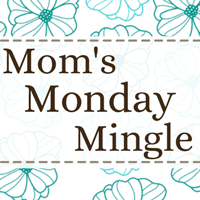 Please help spread the news on this growing hop! Please
tweet
about this hop!
Tweet
RULES:
1. Please follow each hostess
(They are 1-4 in the link up)
At Home Take 2- Hostess
Our Changing Nest: Now What- Co-Host
Makeup Obsessed Mom- Co-Host
2. Leave a comment if you are new and want us to return the follow.
3. Grab the button and display it on your sidebar or link it to the post.
4. Have fun and meet new friends!